NFL Football Betting Info
Always check the injury report. Injuries are huge in Football Gambling and can mean the difference between a win and a loss.
Don't be afraid to double up on Monday. If you are down and like the Monday game double your wager.
Keep your cool. Never chase your money. Meaning never wager on games because they are the only thing to place a wager on.
Control you bankroll. Set a certain amount you are going to bet and stick with that all season.
Start early. Usually the lines are a little looser in the beginning months of the season. So start your season with the NFL season.
Super Bowl XXVII 1993
Dallas Cowboys vs. Buffalo Bills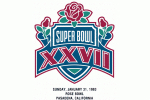 In 1993 the Dallas Cowboys won their third Super Bowl in team history by defeating the 1992-93 American Football Conference champions Buffalo Bills and became the first team to lose 3 consecutive Super Bowls games. Cowboy's Quarterback Troy Aikman was named the MVP of the Super Bowl XXVII.
SCORING

1
2
3
4
OT
T
BUFFALO BILLS
7
3
7
6
17
DALLAS COWBOYS
14
14
3
21
52

Date: January 31, 1993
Stadium: Rose Bowl Stadium, Pasadena, California.
Attendance: 98,374

Super Bowl XXVII Most Valuable Player:

Players: Troy Aikman

Team: Dallas Cowboys

Positions: Quarterback
College Football News